Dr. Franklin Ognelodh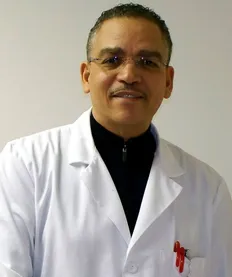 Frank Ognelodh DPM, has been a resident of Central Virginia for more than 20 years and active in the community ever since. He received undergraduate degrees from Brooklyn College in nutrition and Long Island University as a physician assistant. It was not until 1982, when he began medical school at the New York School of Podiatric Medicine that he found his true calling. Dr. Ognelodh graduated from podiatry school in 1986 near the top of his class and acquired his residency at the prestigious New York College of Podiatric Medicine and Surgical Residency program, where he gained extensive knowledge and enhanced his skills in foot and ankle surgery. Dr. Ognelodh practiced in New York for 5 years and after obtaining a medical license in the Commonwealth of Virginia, he moved his family to Chesterfield, Virginia to start his private practice Preventive Foot Care, Inc in 1993.

Dr. O. as he's fondly known, is affiliated with various professional organizations including the APMA, AAPPM, the Council of Virginia Podiatric Physicians and Surgeons and the Richmond Medical Society. Dr. Ognelodh believes in being completely available to his patients. He prides himself in providing personalized treatment to all his patients and ensures his staff is qualified to do the same.